Green iguana lizard. IGUANA IGUANA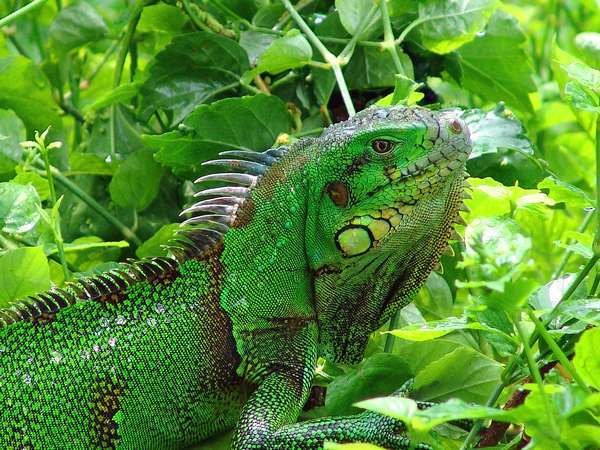 Distribution:
The species extends from Mexico to Brazil.
Size:
captive iguanas rarely exceeds 120 cm in the wild but it is not uncommon for individuals exceeded 150 cm! Some males can reach a record size of 230cm! it's very impressive but exceptional.
Longevity:
An iguana high in good condition just live from 10 to 15 years
Legislation:
The green iguana is listed in Annex 2 of the Washington Convention, it is therefore necessarily an issue of CITES to be provided on the invoice or for animals born in captivity NC certification.
Behavior:
A green iguana is quite familiar, and accept food from the hand of the keeper easily. However, there are specimens capricious. It is important not to forget that these animals are wild, these animals can be dangerous. When you have several individuals must be especially careful because the dominant male in general it is quite aggressive. These are very interesting and intelligent dinosaurs.
Terrarium:
An iguana is growing fast enough it is necessary to provide a vast terrarium well to begin with. A terrarium for a juvenile of 90-100cm long, 60cm high, 50cm wide and will be more than enough (even for two juvenile).
An adult must be at least a terra 150cm long, 100cm high, 100cm wide. Couple for my iguana terrarium of a 150cm long, 180cm high and 100cm wide for individuals exceed 120cm need a terra 200 * 100 * 200 because these animals love to climb on the industry and spend most of of their time on it!
Layout:
They need a lot of perch, but also quite strong and well set for the iguanas and moves a lot as an adult, they are quite heavy and it varies between 4 6kilos! Immediately forget the beautiful scenery! because they do everything quickly make a mess! to a large pool of water is needed and change water regularly. For he often defecate in water. Avoided for soil and wood chips removed carpet-like plastic "fake grass" to be able to wash easily and provide another alternative to the bearings. By cons Avoid synthetic carpets imitating the grass because it can cause accidents.
Maintenance:
it is essential to a guard with a thermal hot spot and cold. Day temperatures of 30-32 ° and 27 ° hot corner at the point of charge. Lowering the night temperature is a basic rule to avoid the disruption of the thyroid, if the temperature remains at the same level 24/24h! Noctule temperature should be between 23-27 °
.
UV light is necessary because it provides them with vitamins and avoid calcium deficiency, because no exposure is the nutritional osthéophibrose reaching the animal as being too low in calcium the animal bones too fragile and makes it difficult to move. Unfortunately it is a disease that is too common in these lizards in captivity, because people often overlooked while uv are essential to the animal. Besides the UV are essential for most lizards! . The humidity is when she was between 60-80%, but usually a large tub of water is enough to make the moisture given temperature.
Power:
The green iguana is completely vegetarian! But not anything like food, because food must contain twice as much calcium as phosphorus and having an adequate content of vitamin and protein. It is best to varied meals. For juveniles is daily distribution, while for adults it not be reduced to every other day. Juveniles in the meal it is best to add vitamins and minerals that are not readily available to facilitate their growth, and at the same time avoid deficiencies, they must be used in a sustained manner all the same, 2 - 3 times a week for juveniles and 2-3 times per month for adults.
Reproduction:
Warning at the time of reproduction, as animals are very aggressive and can afflicted with major injuries!
Breeding in captivity is very rare for a perfect success it is essential to respect the day / night cycle was Winter! Heavy fighting may be observed between male and female if it is not willing! NEVER S interposed between the two animals in combat!!
But still watched the conduct of the things that if ever it goes wrong it must quickly separate the animals because they can inflict serious bites!
Eventually the female will be overweight and stop eating. A female lay between 10-80 eggs slightly according to its size, it is necessary to transfer them in an incubator (without turning the left as they are discovered) and maintained at a temperature of 29-31 ° to half buried in the vermiculite, and maintain a humidity of 90-100% Incubation lasts 60-90 days and the babies measured about 25cm.
Complement and warning:
These are very interesting animals to study, but is rather delicate in captivity for any beginner.