Gonyosoma oxycephala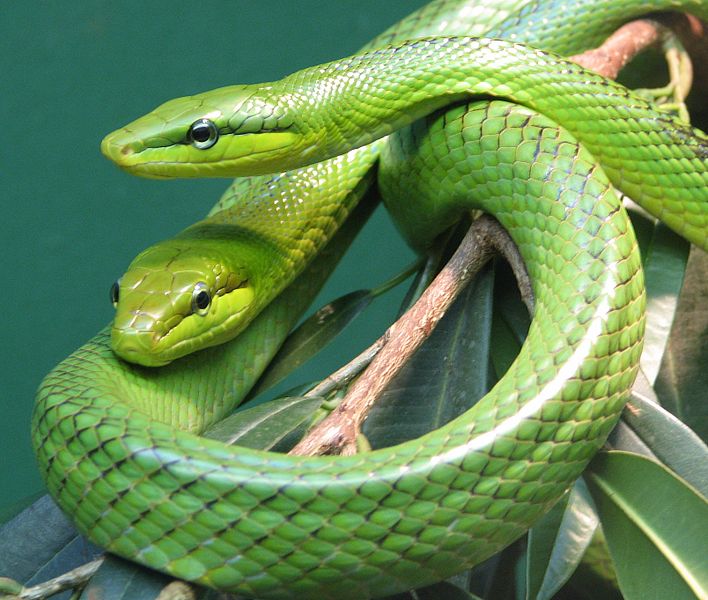 Gonyosoma oxycephala
Description:
This beautiful snake can grow up to 2m40 although the average size is 1m80. His body is green with some blue highlights. The ventral side is yellow. Its tail is gray to red depending on the specimens. The eyes and language of this snake is colored blue. There are also gonyosoma gray or brown.
Distribution:
Southeast Asia: Burma, Malaysia, Thailand, Laos, Vietnam, Philippines, Cambodia ...
Habitat:
The Gonyosomas arboreal snakes are living at medium altitude (700-800m) in the primary and secondary forests. It can be found in rubber plantations.
Temperature:
terrarium temperature should be 26 to 28 ° C at the hot spot and from 22 to 24 ° C at the cold spot. At night, temperature must be lowered to 22 ° C
Lighting:
This snake does not need lighting so the room where you will find the terrarium is enlightened enough to create a cycle day night.
Humidity:
It should be about about 60 to 70%, with peaks rising to 90%. It will be produced using the tank water in the hot part of the terrarium as well as with spraying in the evening or a few times a week.
Power:
specimens bred in captivity readily accept the rodents. For cons, the specimens are quite difficult, if they do not feed on rodents, it will try birds.
Terrarium:
120 x 80 x 120 cm will house an adult pair. A substrate supporting a
high humidity, high camelle water, branches as
perches and hiding places (style nest boxes) will complete its
terrarium. To maintain a good moisture water spray
daily is essential, but do not spray directly on
individuals to avoid the risk of respiratory infections
Reproduction:
a drop in temperature is possible for an expected mating, but not necessary. In my opinion the cards too self drafts drawn and not individuals reproduce for several generations
mine does not suffer any period of rest and still reproduce successfully. The first concern is the location of a nesting places that suited him one year, did not necessarily suit the next year, which is why it is more possible location for nesting. My female lays 5 eggs that I put in a box was half filled with vermiculite moist but not soggy, at a temperature of 28 ° C the eggs hatch in 90 to 100 days. Then comes the delicate period of the outbreak, because the shell of the eggs of this species is highly calcified and small often have difficulty has drilled, should therefore be incised shell out for a helping and the harder still to define when it is most appropriate, some farmers are waiting for a first serpent pierces the shell is incise the rest, I j'incise has 95 days and I let out alone small
Note:
gonyosoma the snake are quite fragile and aggressive, especially when they come from capture. It may be suitable for beginners if the animal was born in captivity, and if the person is knowledgeable about the species