Varanus timorensis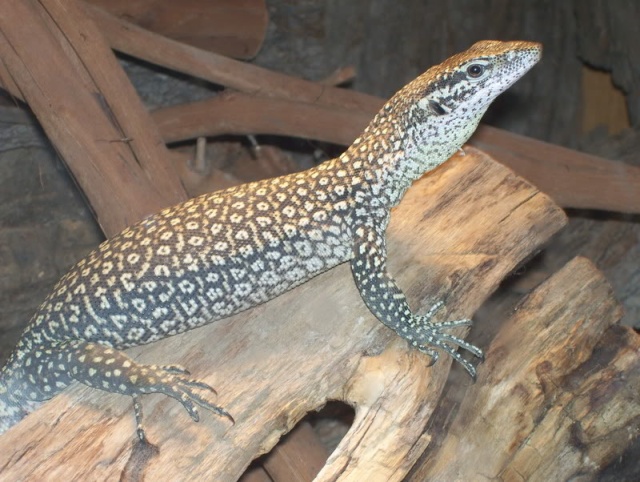 [/center]
Introduction:
Small varanidé about 60cm from adult
the island of Timor
tropical biotope
species rather timid
difficult to handle
arboreal
Terrarium:
This species needs a terrarium for a single individual for a couple of 100x50x70 a terrarium of 150x60x70 is correct that it does not work on it
The terrarium should be composed of a water dish for your lizard can drink at least 2 cache (for this species as there are more the better) developed a cold and a hot spot in the terrarium
used as a substrate can have the coco peat, bark of red pine, coconut chips, which are substrate that retains moisture well I like coco peat, which gives a far more natural to your terrarium
Maintenance:
For an ideal thermal gradient, it will be a hot point between 35 ° C and 40 ° C, an intermediate temperature of 30 ° C, cooler and a point at 25 ° C the day temperatures of 20-25 ° C night. Like other reptiles, the lizard is exothermic, meaning it can not tackle its temperature, and it absolutely needs a lot of heat! Prefer the use of a Basking and UVB tube (or lamp UVB), with a special ceramic plug with a protection grid, this animal is good climber and therefore likely to burn. The relative humidity is in turn equal to 80-90%, but less is not too serious and it will require a large pool and maintain a moist substrate almost everywhere except in the hot zone. It is often bathe and defecate in the water also often, but as he climbs there not spend his time, preferring to bask in the spot UV, or to hide at the slightest alarm.
Foods:
You will feed your lizard with a majority of insect size fit the size of your beast and occasionally a rodent about 2 times the mois.Pour rodent prey you can give is to thaw out more about your animal . A little tip for your lizard replaces the energy expenditure of a hunting and does not become obese agitated throughout the terra rodent has the clip to make it run
Reproduction:
Mating occurs after two periods, one dry and one wet (about three months each). Spawning occurs from 35 to 40 days later, an average of 4 to 7 eggs and must be incubated at 28, 30 ° C and 90% for 100 hydrometric to 140 days.
Regulation:
The Timor monitor lizard is listed in Annex B of EC Regulation 338/97, it is also in Appendix 2 of the Washington Convention. If imported, a number of CITES must be registered on the invoice. For animals born in Europe a simple document transfer of non-domestic animals is sufficient.