Varanus exanthematicus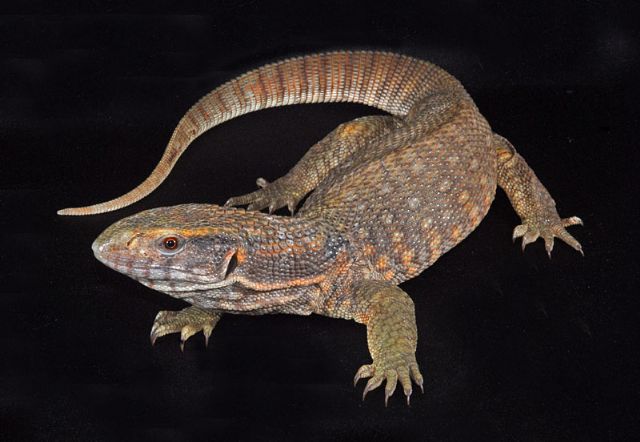 [/center]
Class: Sauropsidae
Subclass: Lepidosauriens
Order: Squamata
suborder: Saurian
Superfamily: Planynota
Family: Varanidae
Genus: Varanus
species: exanthematicus
NATURAL HISTORY:
Varan The Savannah (Varanus exanthematicus, BOSC, 1792) is one of four varanidé afriquaine we can meet in the terrarium.
As the name suggests, this Varans lives in the African savannah and stay away from tropical forests and deserts.
Legal status:
Species classified as CITES Appendix II. No date for review as to its legal status is planned at this time. It is not subject to possession of the certificate of competency in contrast to other lizards because of its small size and the fact that its population is not described as rare and is not decreasing importance.
APPEARANCE:
Varan The Savannah has a relatively stocky who intended almost exclusively to earthly life. The head is blunt and nostrils are placed midway between the eyes and snout. The tail is thick at the base and is in proportion to the length of the body. The color varies from brown to beige with oscelles olive green / yellow. Notice that each sides of the head is marked with a black border from the shoulders to the eyes, passing along the neck. The members are powerful and allow the lizard to dig the earth without any difficulties. The size usually capped to 1 meter, although some specimens can reach 1.30m at the end of growth.
CHARACTER:
Varan The Savannah is a relatively quiet, but like all reptiles, an important issue will be a little more quench a subject born in captivity. Docility, recognized worldwide, makes it a perfect first Varan. It will be convenient to handle it quite often (not abuse of course), bearing in mind, it's still a reptile, not dog.
FOOD:
This Varans be fed early with insects like crickets and the cockroaches, rodents do not constitute the majority of its diet. It will be useful to vary their diet.
Be careful not to over the gorge. In fact, this lizard was more than greedy, often there have risk of obesity in this species.
MAINTENANCE:
it needs a temperature gradient precise temperature at 30 ° C the day with a hot 35 ° C and a temperature of 23 ° C night on average will be required. A low humidity, with a large water tank, even if do not particularly like the humidity, and of course one day installation spot inaccessible (because he does not hesitate to climb) and gentle heating at night (infrared for example). A neon UV is recommended, although it eats rodents, or UVA-UVB spot T-Rex.
CONCLUSION:
This species is one of the most common terrarium with Varanus Acanthurus, particularly because the purchase price is low (about 80-100 € the juvenile animal, particularly a € 60-80) and its relatively small size: 70-90cm Adult small compared to other "common" in the pet store, V. albigularis, panoptic, melinus that reach 120-140cm adults ... However, it will have a spacious terrarium, and like all lizards (except perhaps V.acanthurus) you should not take it as the first lizards.